Michelle Mayur Publicity Photo
.
Michelle Mayur Bio for Interviews
Michelle Mayur is a channel for the Divine Feminine energies of Love and is the visionary founder of the Heal the Healer global community of healers and Lightworkers with members from over 100 countries. In partnership with the Divine, she co-creates powerful energetic shifts, helping people to transcend their issues, limiting beliefs and energetic blockages and to raise their vibration. She is the author of the forthcoming book 'Embraced by the Divine – Inspirational Women's Stories of Hope, Courage and Transformation'.
Michelle travels extensively to power places around the world teaching and doing Light Activation work. In 2012 she received the high vibration Isis Healing of Love energy healing system for personal and planetary healing as a powerful energetic download from the higher realms and now teaches this system widely.
Her private global clientele includes royalty, a mining company CEO, university faculty dean, a resort owner, Buddhist priests and a Catholic nun, to name a few. Specializing in Spiritual Healing, Isis Healing of Love and Hypnotherapy, Michelle has worked in private practice as a healer since 1995 in Melbourne and abroad.
In 2010 she ran the highly successful Global Conference, 'Breakthrough to Abundance for Healers' with top international healing experts and is now a sought-after speaker. She is a published author and has been interviewed on both radio and television. Her websites are www.angelwings-healing.com and www. heal-the-healer.com
To have Michelle Mayur Speak at Your Transformational Event or on Your Radio Program, Contact Michelle at:
michelle@angelwings-healing.com or michelle@heal-the-healer.com
.
Some of the Topics Michelle has been Interviewed on:
Healing for the Soul – transformational techniques for self-empowerment and inner peace, interviewed by Deb Scott, host of The Best People We Know Radio Show
Loving Yourself to Success – 5 Keys for Healers, interviewed by Dan Hanneman, Raise Your Vibration Summit
Connecting to Divine Love – 5 Simple Techniques for Raising Your Vibration, interviewed by Kerri Kennan, Awakened Life Expo
Angel Encounters parts 1 & 2, interviewed by Rev Kimberly Marooney and Ja-lene Clark
Spiritual Adventures in Bali – Aligning with Love, interviewed by Rev Kimberly Marooney in Come Home to Love Summit
Moving Beyond Stuck – How YOU Can Too! interviewed by Elizabeth Hamilton-Guarino in Happy YOU Year Summit
Help, My Body's Talking to Me! interviewed by Joanne Newell
Wherever possible, Michelle makes her powerful guided healing meditations a feature of each interview. She always provides many simple and transformational healing techniques on the call so listeners can feel the positive energetic shifts within themselves.
Free Global Meditations:
Full Moon Meditation
21 December 2012 – Filling the Soul with Divine Love
Opening Your Heart to Love for Planetary Peace and Personal Healing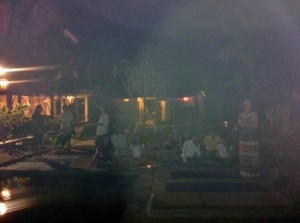 2012 Full Moon Meditation Bali showing Michelle's huge white Light aura
. 
 2006 – Michelle with John Howard, Prime Minister of Australia
2007 – Michelle in Cairo with world famous Hakim, keeper of Ancient Egyptian spiritual knowledge