Michelle Mayur Publicity Photo
.
Michelle Mayur Bio for Interviews
Michelle Mayur is an Accredited Goulding SleepTalk® Consultant and an Amazon #1 Bestselling Author of Embraced by the Divine – The Emerging Woman's Gateway to Power, Passion and Purpose. As a mother of two, Michelle is passionate about building strong self-esteem and resilience in all children, especially those on the autism spectrum, to create a firm and loving foundation for life.
Since 1995, Michelle has been running her successful private practice, Angel Wings Healing, in Melbourne, Australia, and works with clients globally. She has been interviewed on numerous radio shows and telesummits, such as You Can Heal, and Soul 2 Soul. A life-long learner, Michelle has a Science degree majoring in Psychology, as well as diplomas in Clinical Hypnotherapy, Psychotherapy and qualifications in Counseling and in Disability. She is also a Reiki Master. After a transformational near-death experience in 1994 on the tiny equatorial island of Nauru, Michelle made a commitment to devote her life to helping others through her healing work. Some of her professional highlights to date have included designing and facilitating several Spiritual Egypt Tours in such sacred locations as the Kings Chamber of the Great Pyramid and between the Paws of the Sphinx. She has also run overseas healing retreats.
Michelle's loves – apart from her writing and healing work – are her two children, animal activism, spending time in nature, travel anywhere and everywhere, gardening and her pets. Every day she makes her meditation, spiritual practice and connection to nature a priority.
To have Michelle Mayur Speak at Your Transformational Event or on Your Radio Program, Contact Michelle at:
michelle@angelwings-healing.com or michelle@heal-the-healer.com
.
Some of the Topics Michelle has been Interviewed on:
Healing for the Soul – transformational techniques for self-empowerment and inner peace, interviewed by Deb Scott, host of The Best People We Know Radio Show
Loving Yourself to Success – 5 Keys for Healers, interviewed by Dan Hanneman, Raise Your Vibration Summit
Connecting to Divine Love – 5 Simple Techniques for Raising Your Vibration, interviewed by Kerri Kennan, Awakened Life Expo
Angel Encounters parts 1 & 2, interviewed by Rev Kimberly Marooney and Ja-lene Clark
Spiritual Adventures in Bali – Aligning with Love, interviewed by Rev Kimberly Marooney in Come Home to Love Summit
Moving Beyond Stuck – How YOU Can Too! interviewed by Elizabeth Hamilton-Guarino in Happy YOU Year Summit
Help, My Body's Talking to Me! interviewed by Joanne Newell
Wherever possible, Michelle makes her powerful guided healing meditations a feature of each interview. She always provides many simple and transformational healing techniques on the call so listeners can feel the positive energetic shifts within themselves.
Free Global Meditations:
Full Moon Meditation
21 December 2012 – Filling the Soul with Divine Love
Opening Your Heart to Love for Planetary Peace and Personal Healing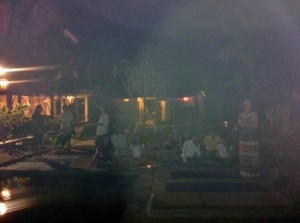 2012 Full Moon Meditation Bali showing Michelle's huge white Light aura
. 
 2006 – Michelle with John Howard, Prime Minister of Australia
2007 – Michelle in Cairo with world famous Hakim, keeper of Ancient Egyptian spiritual knowledge