Experience These 8 Transformational Steps to Living a More Awakened,
Loving and Empowered Life… Today!
Reprogram your mind to drop your old story of struggle, limitation and lack and develop your
new story of ease, flow and abundance.
.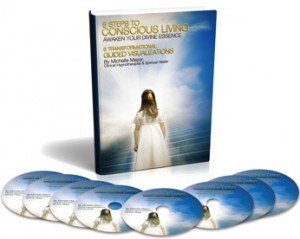 FREE BONUS!
Receive a Complimentary 15 minute ENERGY SCAN  with Michelle to identify your core energetic blocks. (Valued at $60)
Strictly Limited to just the next 15 people to purchase the 8 Steps to Conscious Living – Awaken Your Divine Essence Program.
.
Why Should YOU Experience These 8 Steps to Conscious Living?
To raise out of pain, suffering and frustration with powerful, yet deceptively simple, tools and techniques
To experience co-creating a joyful life of harmony and improved relationships
To learn how to co-create your world as you want it to be
To allow ease and simplicity in your life by knowing how to take Divinely-inspired action
To learn how to surrender the struggle and just flow
To break through limiting beliefs and energetic blocks at the subconscious level through beautiful guided meditation/hypnotherapy journeys
To move into a more enlightened, awakened, conscious awareness
To discover how to connect with much more happiness, joy and love in your life, no matter what is going on around you
To come into a deeper, more loving connection to all that is, including yourself
To learn how to raise your self-esteem and self-worth and love yourself more
To sow the seeds of profound transformation
To integrate the energetic changes of 2012 with ease and Grace 
To connect with your soul and allow the wishes of your soul to manifest
To discover the bliss of experiencing  being in your 5th dimensional Light Body
To experience the powerful healing  energy embedded in each audio
To energetically cleanse yourself at all levels of your being
To connect to your Divine essence, your Divine self, and learn how to take Divinely-inspired and aligned actions
To dissolve the fears of separation and experience Oneness
To balance the emotions and quieten negative self-talk
To re-connect to Nature at the core of your being
To dissolve the illusions of the ego mind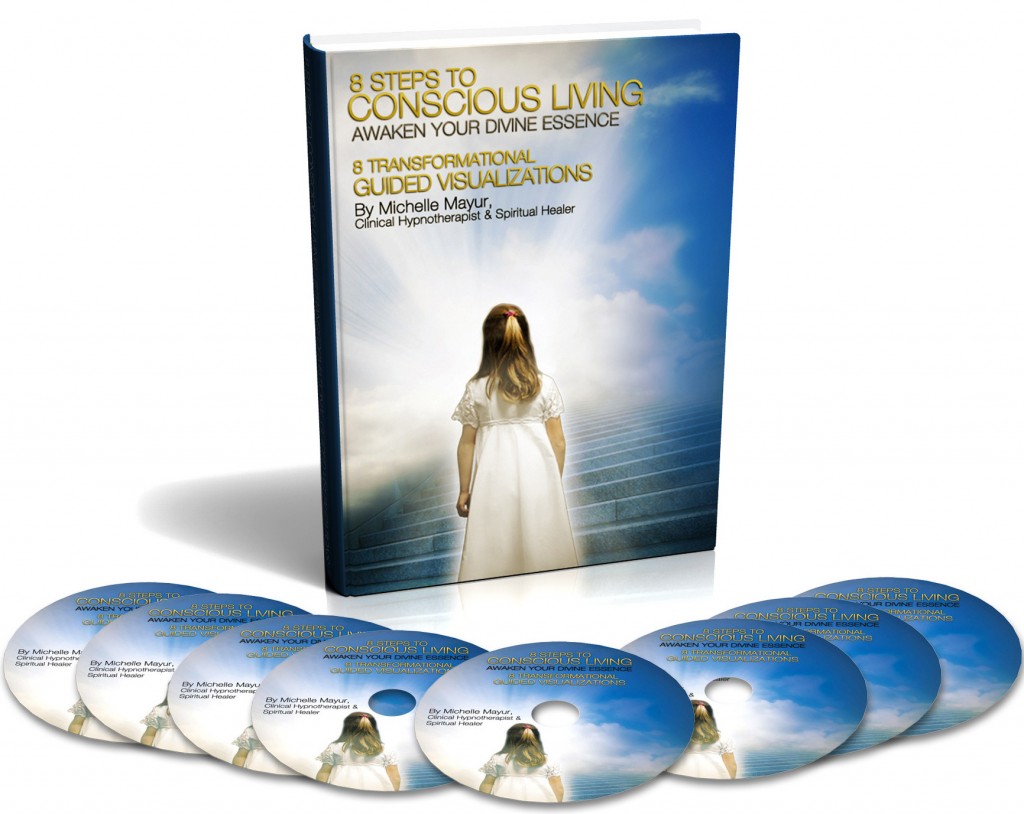 8 Audios of Transformational Guided Meditations
plus BONUS Companion Workbook
by Michelle Mayur, Spiritual Healer and Clinical Hypnotherapist
Hi, I'm Michelle Mayur, The Healer for Healers, and I'm passionate about helping you to live a more Awakened, Conscious Life in connection with your Divine essence to bring you infinite love, joy and happiness. Hence my creation, in partnership with the Divine, of the 8 Steps to Conscious Living – Awaken Your Divine Essence Audio Program.
In fact it has been necessary, as well as richly-rewarding, to have personally lived each one of these 8 Steps in order to teach them.
I have been guided how to live a more Light-filled conscious life of amazing opportunities and synchronicities, released from fear of separation and in closer contact with the Divine in all, including myself….. and now I want to share with you the 8 Steps I took to attain this.
Make REAL SHIFTS from the inside out that are Divinely-aligned to lift you into higher states of consciousness and Grace.
Listen to a Sample from Step 3: 
This program does not interfere with any current religious beliefs you may have, and in fact will complement them. This is a spiritual path and is not based on any religion. These are universal principles that are not tied to any one God or belief system, so you can adapt them to suit your own belief system.
With my own private healing practice for 17 years specializing in angelically-guided Spiritual Healing and Hypnotherapy, and the founding of the Heal the Healer global membership community of healers and Lightworkers now spanning over 70 countries worldwide, I have seen the quality and richness of my life deepen exponentially by following these 8 Steps faithfully.
This is the journey of Awakening, or Enlightenment. As the energies of 2012 continue to accelerate, you can learn these 8 Steps to integrate the changes easily or you can feel more and more challenged as you are forced to address those areas of your life out of alignment with the higher vibrations.
Do you want to experience living in expanded states of love, joy and harmony more and more in your life, no matter what is going on around you, or do you want to continue to struggle in the fear, separation, limitation and lack of the mass consciousness? These 8 Steps will assist you in coming into a higher awakened state of consciousness, where states of bliss and overflowing feelings of love for everyone and everything become commonplace. The incessant chatter of the Ego Mind gives way to the peace and purity of connection to your Divine essence.
Experience how to rise above the pain, worry, anxiety, suffering and fear that have kept you stuck and have compromised your health and relationships. Let go of the pain of past hurts, outmoded beliefs and patterns that have been blocking you from the joyful life that deep down you know you are supposed to be living. Re-awaken your connection to that Divine aspect of you – your Divine self – and experience the love, blessings, delight and Grace that are in alignment with your life purpose.
What People are Saying About the Program
"The internet is full of people trying to sell all sorts of fancy, expensive courses by self-appointed 'gurus' that promise to fix all of your worldly problems. I've tried many of them and I can say that Michelle's course is different…this is the real deal if you are looking to seriously assess your current life situation and mindset in order to create and attract positive changes in your life. Her words have a power that draws you directly into your own heart, and she guides you along this path like an old, trusted friend. If your experience is anything like mine, you will experience great energetic shifts that really will have you living a more authentic, passionate life filled with ease, joy and love."
Cathy B. Grand Rapids, Michigan, USA
************************************************************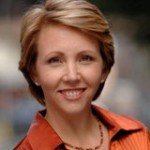 "What a timely program to assist people in integrating the rapidly-increasing energies of 2012 and beyond with Grace and ease. Michelle's unique style blends profound spiritual teachings with beautiful guided audio journeys to transform you at a soul level."
Christine Kloser, Spiritual Guide and Transformational Author, Beyond Mindset: Everyday Inspiration to Help You Remember What Your Heart Already Knows www.beyondmindset.com
************************************************************
"Michelle's work always carries a beautiful energy. Her love and passion for helping people to grow radiates out like beams of golden sunshine, warming all those touched by her rays."
Darren Linton, Angel Connection Expert www.guidedbyangels.info
************************************************************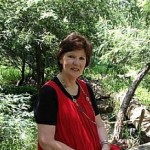 8 Steps to Conscious Living is an amazingly transformative program, bringing love, peace and healing to body, mind and soul. Each audio is prepared in such a professional manner; you are transported to beyond the physical and into the mystical world of spirit, and invited to discover and explore untouched regions of your soul.
I highly recommend this program to anyone looking to move beyond their current state of consciousness, towards finding the light of Truth. Thanks so much Michelle for sharing your wonderful gifts with the world.
Dr Geraldine Teggelove Msc, Author of International Best Seller Beyond Broke. www.geraldineteggelove.com
************************************************************
The 8 Steps to Conscious Living – Awaken Your Divine Essence Program is suitable for anyone from the novice spiritual seeker, hungry to learn more, to those who have been travelling their spiritual path for 20 years or more.
No matter what stage of your personal journey you are on, you will learn deep spiritual truths and lessons through direct experience in these powerful guided meditation and hypnotherapy* audios.
At both the conscious and subconscious levels, these are the spiritual truths which now have the power to radically shift your life with Grace into an abundance of inner contentment and peace.
Each time you listen to these audios you will develop deeper and deeper levels of understanding, much of it at the subconscious level.
You may notice a touch of angel magic about these audios. The words used in the audios have come through me rather than from me. I am purely the vessel for the transmission of the spiritual lessons. Each of the audio steps involves a hypnotherapy relaxation induction, a therapeutic meditation to experience profound spiritual truths and to integrate these at the subconscious level, as well as a wake-up process to return to full alertness.
Each of the 8 Steps audios is in fact a full hypnotherapy session* as well as a deeply relaxing and profoundly beautiful meditation.

All the 8 Step audios are highly EXPERIENTIAL so the spiritual lessons of our time can be felt emotionally and in the body in a deep state of relaxation and integrated deep into the subconscious mind, rather than just being talked about at an intellectual level. Similarly to the classic book, The Celestine Prophesy, you will respond to the material according to your current level of spiritual development – anywhere from just enjoying the powerfully evocative stories in the guided visualizations and having the seeds of transformation planted, to experiencing profound levels of transformation and spiritual understanding.
"When you change the way you look at things, the things you look at change." Dr. Wayne Dyer
Don't worry if you're a meditation novice – you will be getting plenty of guidance to allow you to relax deeply. The complexity of the audios increases sequentially, along with the depth of relaxation induced, shifting progressively to higher and higher levels of vibration.  It is suggested to use the audios sequentially, listening to each one several times before moving onto the next and spaced at least a week apart to allow processing and integration time.
Although the 8 Steps to Conscious Living Audios are complete in themselves for profound spiritual growth, you may also wish to deepen and enrich your experience of the audios by reading the information and completing the spiritual exercises contained in the 8 Steps Companion Workbook.
The BONUS 47 page Companion Workbook contains added information, exercises and further suggested reading to stimulate the mind and to enrich and extend your experience of the 8 Steps to Conscious Living Audios.
What is Hypnotherapy and Why is it So Powerful?
A vividly imagined scene or experience in a relaxed hypnotic state is interpreted as reality by the subconscious mind, so it is little wonder Hypnotherapy is such an amazing healing tool for personal and spiritual growth, as well as more mundane things like stop smoking and stress management.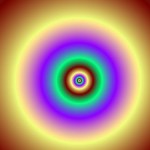 Hypnosis is not a sleep state, but rather a natural state of deep relaxation in which the brainwave frequency has been lowered from waking beta to alpha or lower, the same levels as in meditation.
Many people are under the misconception that hypnosis is something magical and mystical where we totally lose awareness of where we are and what is happening to us. The reality, however, is that hypnosis is a natural state of relaxation where the activity of the conscious mind slows down while the subconscious mind remains alert and active. It is a form of focused concentration by the subconscious mind and people of average or higher intelligence usually make the best subjects for hypnotherapy.
* Please note: These Audios are not suitable for anyone who suffers from psychosis or Grand Mal epilepsy, unless you have  written permission from your treating doctor / health care professional to say in his/her professional opinion you are able to safely listen to these Hypnotherapy audios with your condition. 
For Your Invaluable Investment in Yourself You Receive:
All 8 Transformational Guided Visualization Downloadable Audios (That's well over 4 hours)

BONUS 47 Page 8 Steps Companion Workbook pdf
Introductory Audio to introduce you to the Program

I really want this life-changing work to get out to the world in a BIG way, so I'm prepared to sacrifice much of the profit I could potentially be making to ensure YOU have every opportunity to move into more aligned, Conscious Living, which is the foundation of 2012 and beyond.

"Be The Change You Want to See" Ghandi

In living a more awakened, Conscious Life you become the beacon of light to light the way for your family, friends and network to also shift vibrationally to a higher, more conscious way of being, having and doing in the world. You awaken not only yourself, but all those around you who are ready to shift.


What Would I Usually Charge for These 8 Life-Transforming Audios and Companion Workbook?




To see me as a Private Client for similar Hypnotherapy and Coaching sessions covering the same material, the total cost of the program would be in excess of $1,000,

based on my hourly rate.

Even just buying all the 8 Steps audios individually would be 8 x $40 = $320
PLUS purchase the enriching  Companion Workbook valued at $60
 You could have paid anywhere from $380 to over $1,000!
HOWEVER,  I am practically giving all these away because I am so passionate and committed to reaching as many people as possible with this work to help us ALL shift vibrationally into the Golden Age of Enlightenment for Humanity which started in 2012.
8 downloadable 8 Steps to Conscious Living Audios +

Introductory downloadable Audio +

BONUS 47 page Companion Workbook pdf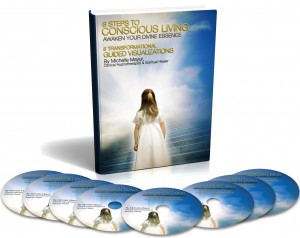 FREE BONUS!  Receive a Complimentary 15 minute ENERGY SCAN  with Michelle to identify your core energetic blocks. (Valued at $60)
Strictly Limited to just the next 15 people to purchase the 8 Steps to Conscious Living – Awaken Your Divine Essence Program.
(Michelle will contact you via email after your purchase to schedule your complimentary Energy Scan
in person, via phone or Skype)
Don't Wait a Moment Longer! Now is YOUR Time to Live a Life Filled with Ease, Grace and Flow.
Experience The 8 Steps to Conscious Living – Awaken Your Divine Essence Audio Program Today.
Convenient Once-Only Payment
Click the Big Blue Button below:

* Enjoy Instant Access to all the Downloadable 8 Steps Audios and Companion Workbook a soon as your payment is completed.
* About Michelle Mayur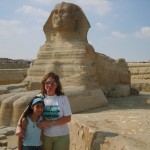 Michelle Mayur is 'The Healer for Healers' and Lightworkers everywhere, a visionary leader, international speaker and the conscious entrepreneur creator of the Heal the Healer membership program, www.heal-the-healer.com Her passion and commitment are to empower Healers and Lightworkers to evolve,  'shine their Light brighter'  and to excel in their healing work.
In 2010 she ran the highly successful Global Conference, 'Breakthrough to Abundance for Healers' with top international healing experts.
Based in Melbourne, Australia,  Michelle has been running her successful private healing practice, Angel Wings Healing, www.angelwings-healing.com, since 1995 and specializes in mentoring, clinical hypnotherapy, spiritually-guided channeled energy work and transformational workshops. She now has clients around the world.
Michelle has designed and facilitated several Spiritual Egypt Tours, which included group planetary healing work in such sacred locations as the Kings Chamber of the Great Pyramid, between the Paws of the Sphinx and in the Isis Sanctuary at Philae Temple.
She believes now is the time to assist those people already spiritually 'awake' to reach more of their potential for the betterment of all in order to raise the consciousness of humanity to a higher vibration.
Disclaimer:
The information, techniques and exercises in the 8 Steps Audios  and the Companion Workbook  are not to be used in place of medical advice. If in doubt or you are suffering from any form of  mental illness or Grand Mal Epilepsy, consult your health care professional as to the suitability of hypnotherapy audios for your condition. Using the audios as directed and doing the exercises in the Companion Workbook as directed will allow the majority of people to achieve significant and positive results in feeling happier and more contented within themselves and with others, however these results may not apply to everyone and no specific results are guaranteed.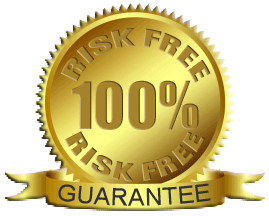 If for any reason you find this program is not for you, then simply let me know within 7 days of purchase for a full refund.